Attention: Triad-Area Viewers
WUNL Channel 26 is currently operating at reduced power using its interim/auxiliary antenna system. Replacement parts are en route and our team will restore WUNL's transmission site to full power as soon as possible. We regret the inconvenience and appreciate your understanding and continued support.
Please note that UNC-TV programs are available online at video.unctv.org or via the PBS App. Our UNC-TV PBS & More and Rootle channels are available live and on-demand for subscribers to YouTube TV.
When can I reach someone at UNC-TV?*

Our business hours are: Monday - Friday: 8 AM - 5 PM. To view a current list of office closures click here.

When will I receive my CenterPiece magazine?
Our monthly program guide, CenterPiece, is available to members who contribute $60 or more per year. As CenterPiece mails between the 23rd and 25th of each month, the U.S. Postal Service should deliver your copy before the start of the new month.

Where is the thank you gift that I ordered?
Thank you gifts selected during a fundraising drive are typically mailed within 3-4 weeks after the payment has been processed.

How do I find out what's coming on UNC-TV's channels?
Please visit our schedule for a complete list of current programs.

How do I locate the library for Passport programs?
Click to see the latest collections and featured shows.
The sound does not match the picture on my television. What is happening?
Some digital television receivers can cause this problem. Changing to another channel and then back to UNC-TV should fix the problem.

The background music is so loud that I cannot hear the narrator. What can I do?
UNC-TV employs minimal audio processing so that viewers can experience the full, dynamic range offered by our music programs without audio compression artifacts. However, there are other things that can cause problems. In many cases, you can make simple adjustments with your surround sound or stereo settings. First, try turning off your surround sound feature, as sometimes surround sound may over-modulate music. Also, some televisions have a "nighttime" mode that tends to equalize the audio you are hearing. Try enabling this setting after turning surround sound off.

On some shows I hear a narrator describing the scene that is taking place. Why am I hearing this?
Some of our shows feature an optional DVS (Descriptive Video Service) track. This is very useful visually impaired viewers, as the DVS describes the essence of the broadcast. You can turn the DVS setting off in your television's sound settings.

I am seeing words on the screen describing the scene. Why is this?
You have CC (closed captions) enabled on your television. You can disable them under the captions settings.

On over-the-air Channel 4.1 WUNC, the picture sometimes breaks up and pixelates during motion scenes? Why is this?
We share WUNC Channel 4.1 with another service provider. This results in slightly less picture information being transmitted on our WUNC transmitter only. This effect may be noticeable on some programs with high motion and camera pans. Try reorienting your antenna to one of our other transmitters.

I am receiving UNC-TV through an antenna and am getting poor reception, pictures freeze and pixelate, etc. What should I do?
Make sure your antenna is a UHF or VHF/UHF antenna. All UNC-TV transmitters operate in the UHF frequency range. A four- or eight-bay bowtie outside antenna provides good performance for receiving our various transmitters located across the state. Reception will vary by location, terrain obstructions and antenna height. Please contact our Audience Services team for a specific antenna recommendation for your location.

If you are using an outdoor antenna, check that it is aimed towards our transmitter site for your location. Here is the FCC antenna website where you can enter your address and determine where to aim your antenna.

If you are using an indoor antenna you may need to experiment with different locations and orientation to get satisfactory reception. Locating the antenna near a window facing towards our transmitter may help. Outdoor antennas are preferable and will always give better results than an indoor antenna. Attic antennas will work, but again outdoor antennas with an unobstructed view will provide best performance.

I am receiving other channels, but not UNC-TV. What should I do?
You may need to do a channel search or scan for new channels. If you are using an indoor antenna you may need to readjust slightly the position or orientation of the antenna and perform the scan again after each adjustment. If you are using an outdoor antenna you should check the direction the antenna is aimed.
The on-screen program guide does not match the program being aired. I am receiving your services on cable or satellite. How do I fix this?
UNC-TV tries to ensure that guide information is correct for each of our services. Occasionally, with last-minute program changes, the guide may not reflect the actual program. If this problem persists, please contact our Audience Services team as there are various cable providers across the state and the problem may be unique to your provider.

How do I record my scheduled show when the channel information is incorrect on the on-screen program guide?
If the guide information is incorrect it will be difficult to record our channels using a DVR. Please contact our Audience Services team so that we can promptly investigate any guide-related issues.

Why are episodes of some programs shown out of sequence?
Our programming experts do not schedule episodes out of sequence. However, it occasionally happens for various reasons. If you notice this happening on a regular basis, please let us know so that we can follow up and fix the sequencing issue in the future.

What if my question is not listed here?
The FCC has more information on its DTV website, or contact our Audience Services team.

How do I watch UNC-EX or UNC-NC through my cable or satellite subscriber?
Spectrum Cable subscribers on former Time Warner systems can access UNC-TV's four digital services at the following channel numbers: UNC-TV – 1221, The Explorer Channel – 1277, North Carolina Channel – 1276, and Rootle (UNC-TV's 24 hour Kids Channel) – 1275. The channels will be different for Spectrum Cable subscribers on former Charter systems. Contact your provider if you need help finding us in your area.
Some Providers
Channel numbers vary by location; please call provider for details.
AT&T Uverse: 1-800-288-2020
Comcast: 1-800-934-6489
Direct TV: 1-800-531-5000
Dish: 1-800-333-3474
Mediacom: 1-855-633-4226
Northland Communications: 1-888-667-8452
Spectrum: 1-855-757-7328
Suddenlink Communications: 1-888-882-5151

Click for printer-friendly channel information.


Where does the UNC-TV network broadcast in North Carolina?
The UNC-TV statewide network of 12 stations, each featuring our four digital channels, covers the entire state, as well as bordering areas of neighbor states.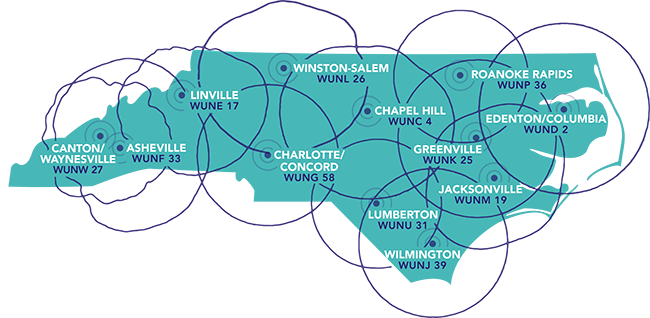 For any questions not addressed here, please contact UNC-TV's Audience Services department at 1-888-292-7070 or viewer@unctv.org.