In collaboration with the University of Central Florida
A word from our executive producer
At the end of Freedom Avenue in Mims, a tiny town in north Brevard County, Florida, is a place where history bespeaks of unthinkable horror and unshakable hope. Amid a quiet orange grove sits a replica of a house that was the home of schoolteachers and civil-rights activists Harry T. and Harriette V. Moore and their family. It's a replica because their original house was blown up by hate-filled terrorists while the family lay asleep in their beds on a peaceful Christmas night in 1951. It was also the Moores' wedding anniversary. Harry died that night. Harriette would die of her injuries nine days later. What did not die was their fight for justice and equality. The nation and the world were shocked by the news of a Black American couple brutally murdered in the bed of their home for only one reason: Having the audacity to insist that people of color be treated with fairness, dignity, and equality. The Moores became the first martyrs of the modern civil rights movement.
Seventy years later, as Central Floridians and the rest of the nation grapples with yet another reckoning over race, the Moores' legacy lives on and speaks to our present condition with moral force and clarity. WUCF partnered with the UCF Nicholson School of Communication and Media to explore that legacy and shine a light on its impact. Student journalists in Professor Rick Brunson's RTV 3301 Electronic Journalism I class fanned out across Brevard County to interview people impacted by the Moores and their legacy. Each of these stories shares a piece of that legacy through the voices of those who are keeping it alive.
--Julianne Amaya,Executive Producer of The Moore Project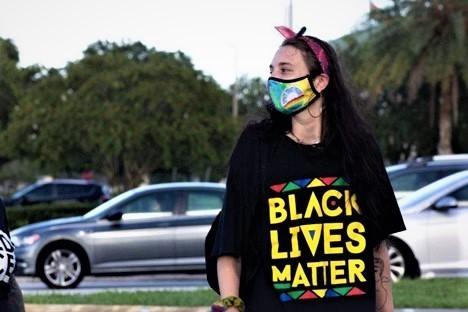 The Moores established the Brevard County chapter of the NAACP, and its mission was their life's work until they lost theirs. Today, NAACP and Black Lives Matter activists in Brevard County keep up the fight.
By Kirk Churchill and Job Critton
The great-grandson of Harry T. and Harriette V. Moore continues to carry on the family's legacy by raising awareness and illuminating his ancestors' passion. From growing up as the group's jokester to creating a scholarship to honor his great grandparents, he embodies the Moores' soul and their polished persona.
By Jessica Less and Okelo Pena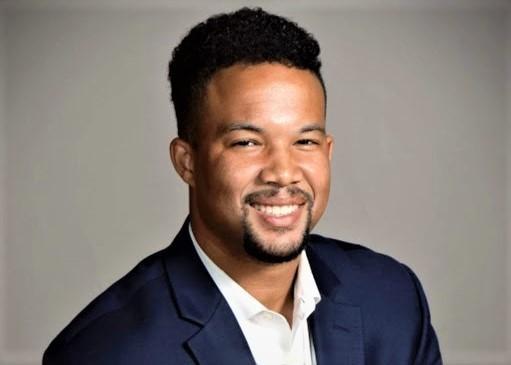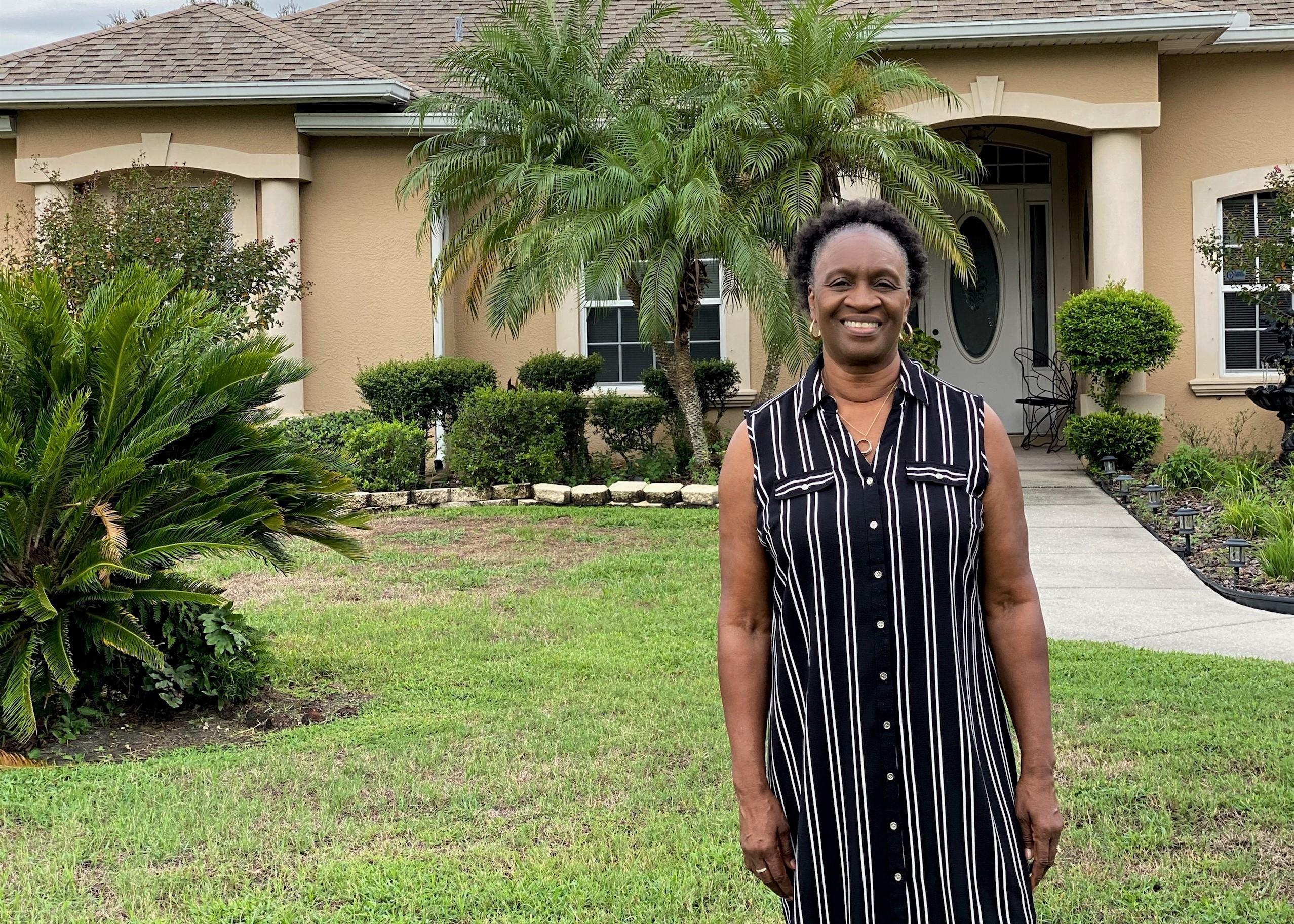 In the tidy, well-manicured homes that line Freedom Avenue in Mims, neighbors White and Black live each day in the shadow of one of the gravest injustices in American history. They feel the burden of that moment upon them every time they drive by the historic site. In that way, almost inadvertently, the neighbors can't help but keep the Moores' memory alive.
By Alondra McIntosh and Aidari Riera Herrera
Seventy years after their house was bombed and they lost their lives, the Moores' heinous murder has never been completely solved. What we do know is that the Moores' were targeted by the Central Florida Ku Klux Klan, but justice was elusive in a Deep South state where few White people cared what happened when Black people were killed. The criminal case has been investigated and reopened five times.
By Kelly Gilmore and Jessica Tucciarone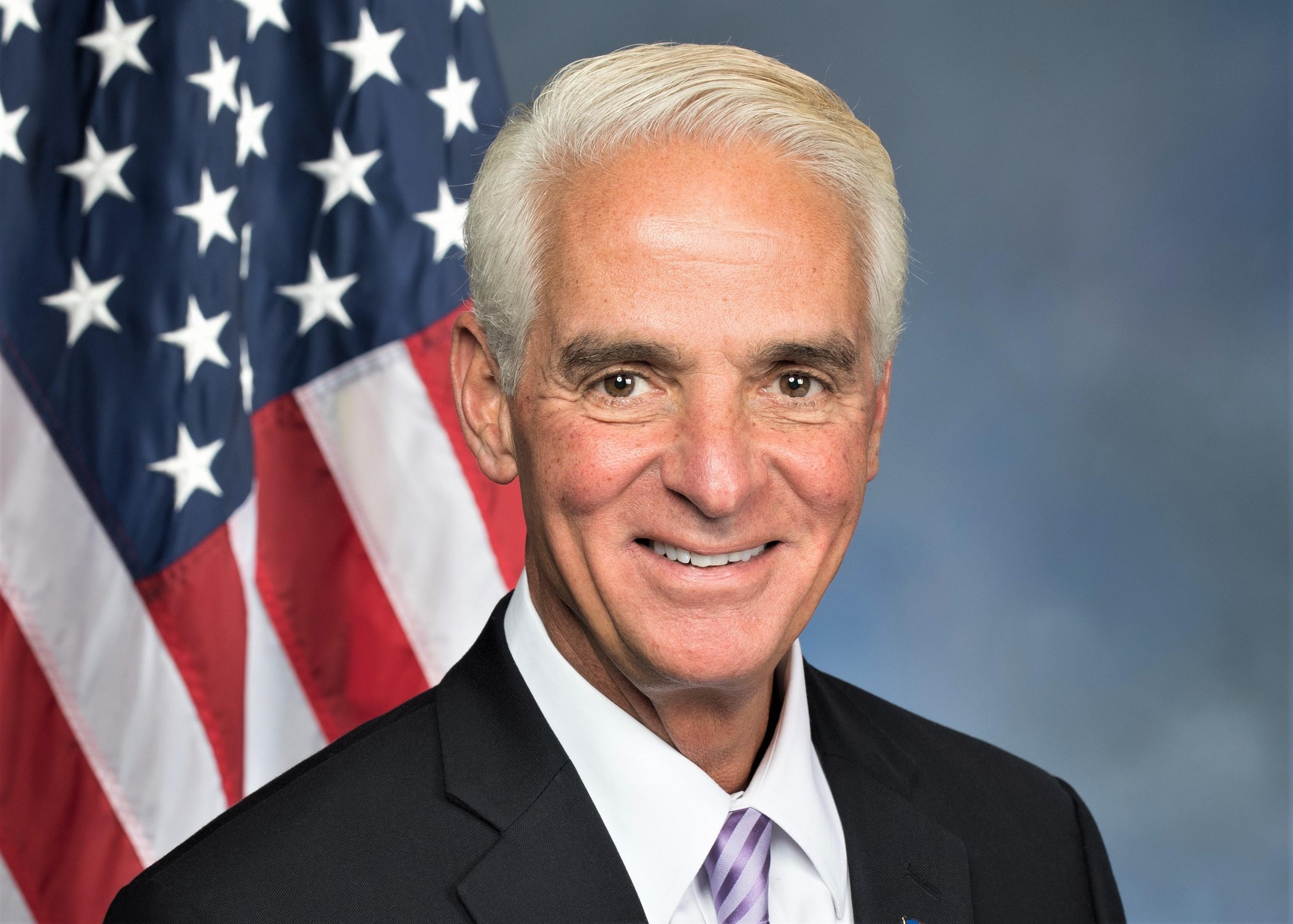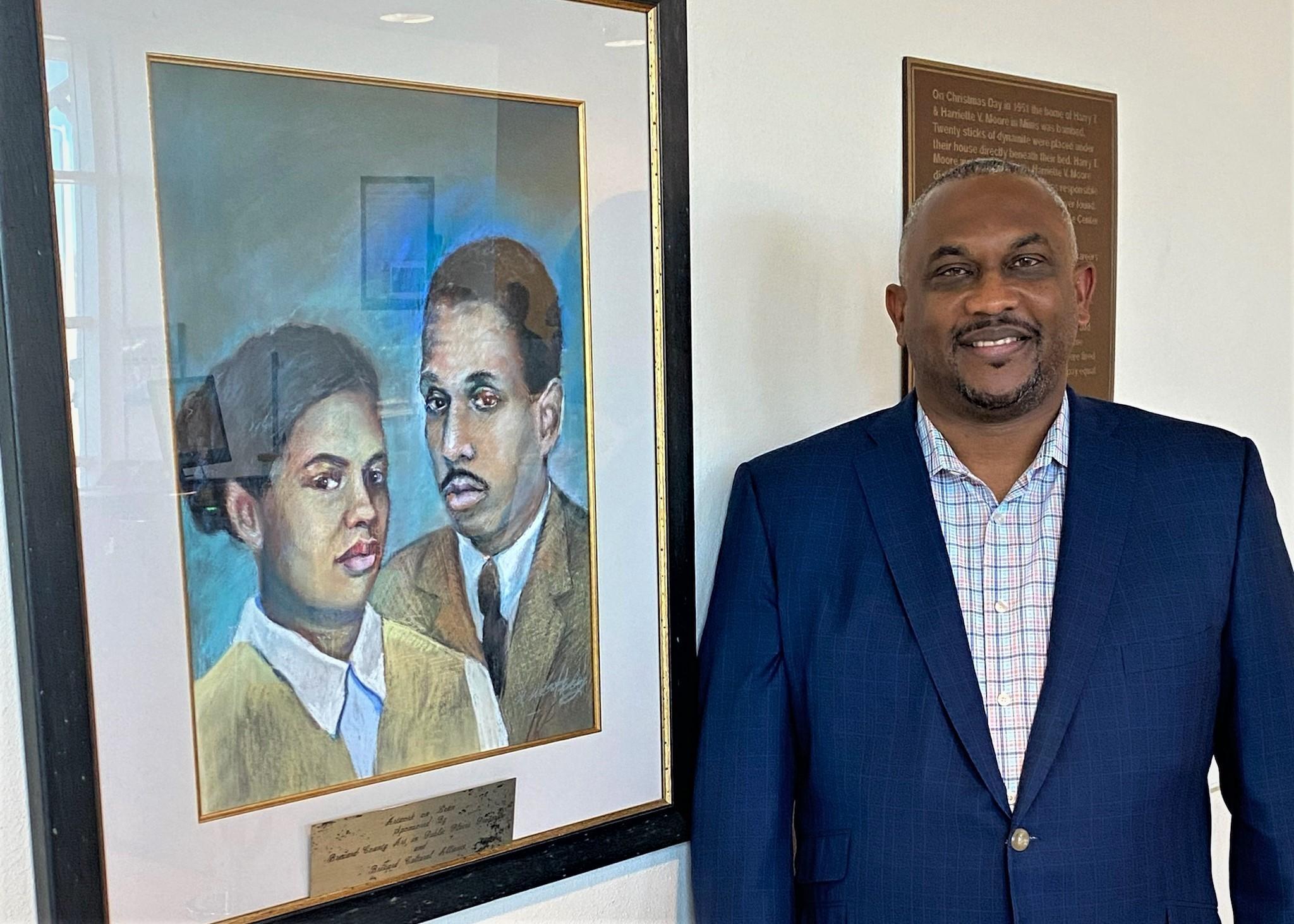 The Moores' lives and activism centered on making America's stated creed of "equal before the law'' a reality for Black people. Today, behind the banging of gavels and one case at a time, two Black Brevard County law practitioners – a judge and an attorney – work hard to make sure justice is served, so that the Moores sacrifice for that cause will not rest in vain.
By Taylor Anderson and Kendall Beebe
A Brevard County high school history teacher fights and wins a long battle to include and incorporate African American history, including the Moores' story, into the district's curriculum. That's only appropriate, he says, since he teaches at Heritage High School in Palm Bay – a school whose name symbolizes the diversity that is the reality of a student body that reflects a new America.
By Carla Mangual and Phillip Wright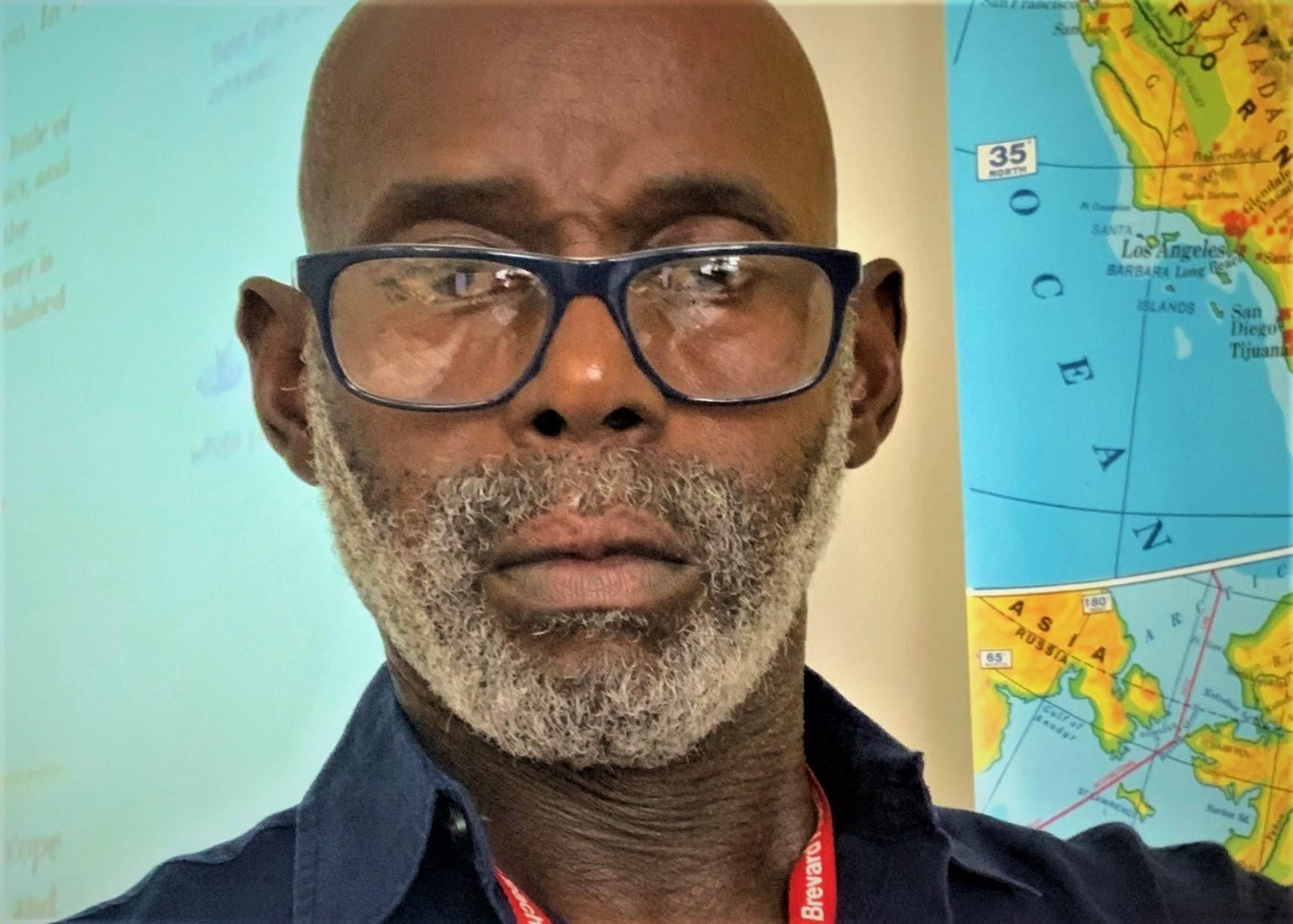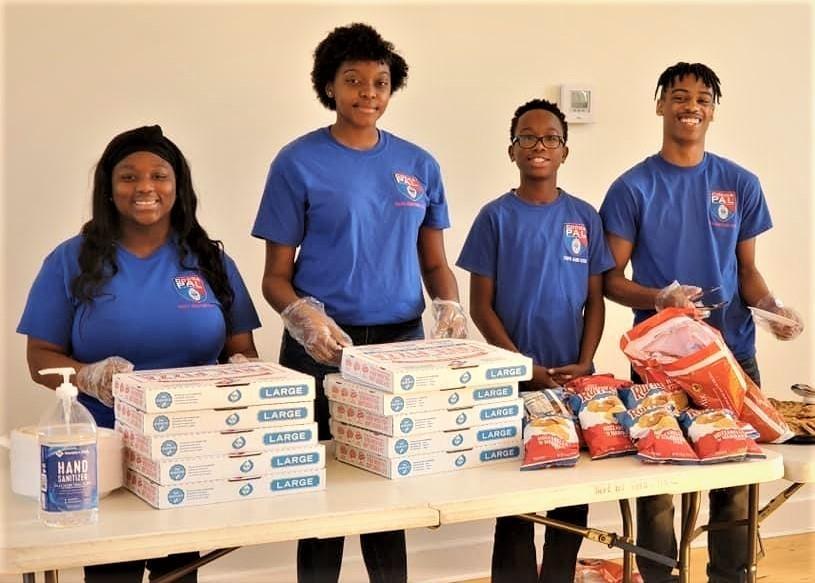 The Moores served as teachers in Brevard County. They fought to close the inequity gap between the education received by Black and White students. Educators like Kyle Savage are still fighting that disparity today. "It's sad that you can look at a certain ZIP code and look at the income inequality in that school zone and realize that these kids will succeed or not," he said.
By Florangel Rodriguez and Clara Melo De Paula
At the end of Freedom Avenue, the Moore Park and Museum welcomes and educates visitors about the Moores' lives and legacy. Cultural Center Coordinator Sonya Mallard treats every visitor like family - holding candid conversations about the Jim Crow era, sharing the Moores' story, and reminding everyone of "Three great tragedies: One, that they were murdered; two, that the murders have never been solved; and three, and perhaps the most tragic, is that they are basically unknown."
By Clarissa Moon and Tania Sims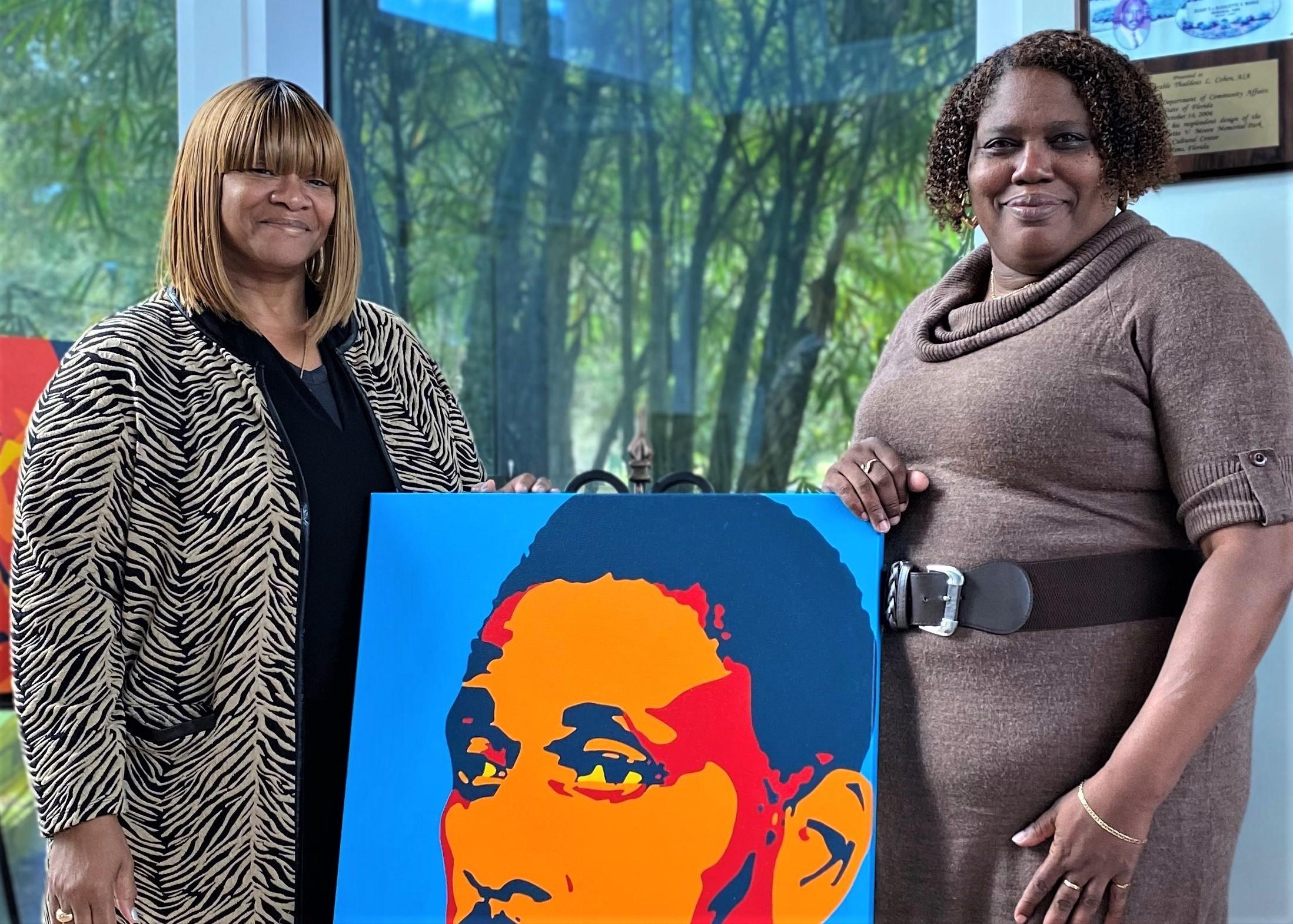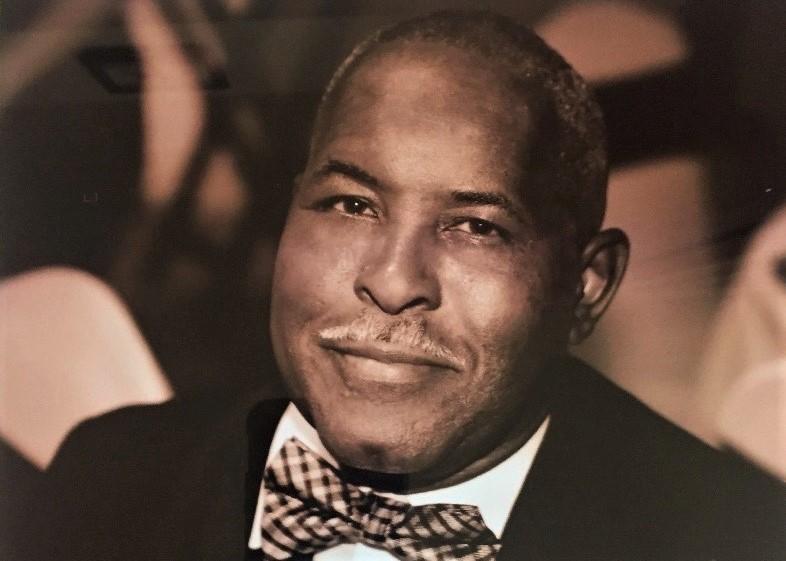 LaGrange Cemetery is the oldest cemetery on Florida's lower east coast. Harry and Harriette Moore lie in rest there in a graveyard that remains segregated -- with Black people interred on one side of the cemetery and White people interred on the other. The man who tends their grave also has a few things to say about tending to their legacy.
By Johan Blanco and Tyler Caron
Seventy years after the bomb went off that would claim the lives of Harry and Harriette Moore, their legacy continues to impact new generations through art and song. Artists around the world have devoted paintings, poems, music, plays, and films to the Moores, with the hope of keeping their legacy alive.
By Zoemar Lebron & Kristi Sultan