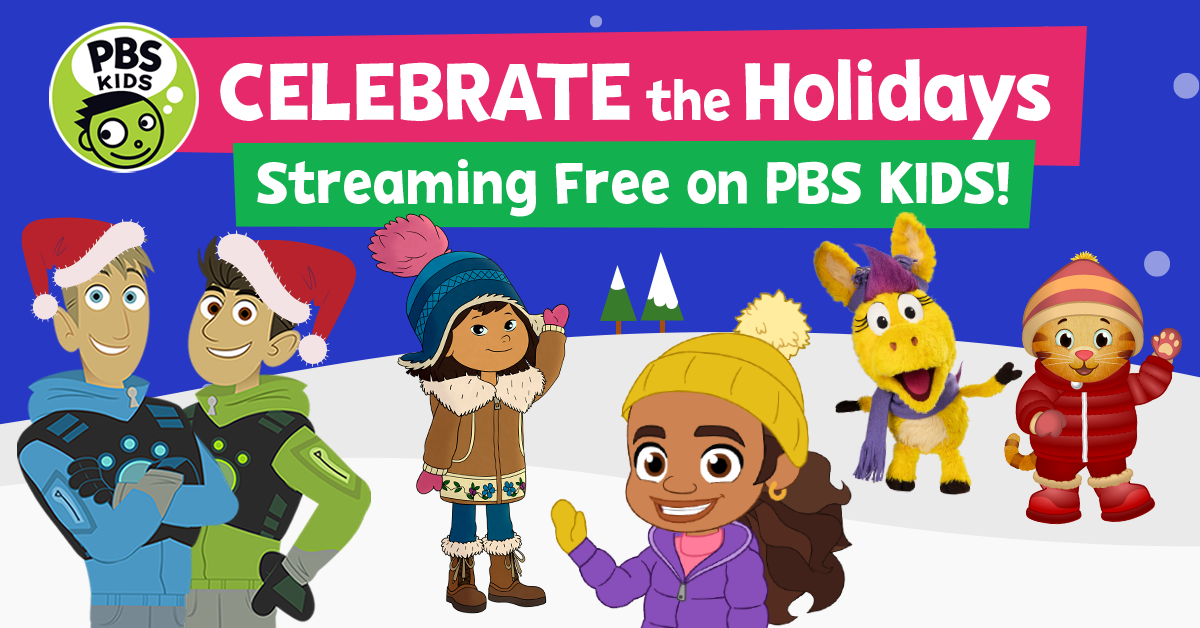 SESAME STREET: HOLIDAY AT HOOPERS
Elmo and Baby Bear stay with Alan and Nina at Hooper's store, but they're disappointed they can't celebrate Christmas Eve and Hanukkah as planned; Elmo, Baby Bear, Nina, and Alan sing carols, eat latkes and make lots of decorations.
ALMA'S WAY: ALMA'S NOCHEBUENA; THREE KINGS DAY DO-OVER
Alma must learn a new way to celebrate when her family's Noche Buena traditions don't go as planned; Alma decides to make a do-over gift for Junior.
CURIOUS GEORGE: A VERY MONKEY CHRISTMAS
Curious George and the Man with the Yellow Hat are having a wonderful time getting ready for Christmas. There's only one dilemma – neither of them can figure out what to give the other for a present! In the end, both gift-giving predicaments are simply and beautifully resolved, revealing the true spirit of the holiday season.
THE CAT IN THE HAT KNOWS A LOT ABOUT CHRISTMAS!
This adventure finds the Cat in the Hat, Nick and Sally on a journey around the world to help a lost reindeer find his way home to Freezeyourknees Snowland in time for Christmas. On the way, the Thinga-ma-jigger breaks down, and they depend on a variety of animals – from African bush elephants to bottlenose dolphins to red crabs – and their remarkable abilities to help them make an amazing journey home.
LET'S GO LUNA: LUNA'S CHRISTMAS AROUND THE WORLD
When the Circo gets stranded in Antarctica on Christmas Eve, Carmen enlists Luna and the kids to play Santa and save Christmas for an unbelievably cute stowaway duckling named Lil' Teeny.
PEG + CAT + HOLIDAYS
"The Hanukkah Problem" - When Albert Einstein invites Peg and Cat over for Hanukkah, he shows them how to make a 2D piece of paper into a 3D dreidel. Later, they need to use this process to bring peace to Al's home and save his Hanukkah.
"The Christmas Problem" - When Santa Claus is in trouble, Peg and Cat have to solve their biggest problem ever: how to make and wrap presents for all the children of the world and deliver them using 100 sleighs.
"The Penguin Problem" - Peg and Cat coach a team of skiing penguins, who would have a shot at the Olympic gold medal if only they knew "over," "under" and "in between."
WILD KRATTS: A CREATURE CHRISTMAS
In this one-hour special, it's Christmastime and the Wild Kratts are taking a break from creature adventuring to celebrate. But when the Wild Kratts receive an alert that their favorite creatures are suddenly disappearing around the globe, their holiday party quickly turns into a rescue mission. The Wild Kratts must race against time to thwart their greedy archrivals' most miserly scheme yet! Will they be able to travel to the ends of the earth and return their baby animal friends to their homes in time for the holidays?
NATURE CAT: A NATURE CAROL
Join Nature Cat and his pals for an extra-special, hour-long Christmas movie! Find out what happens when Hal, Daisy and Squeeks get upset because Nature Cat's desire to celebrate Christmas is bothering all the animals in the woods!
PBS KIDS HOLIDAY ACTIVITIES