Listening Options
Every way to listen to Prairie Public's Radio Service
Prairie Public's classical music plus "Morning Edition" and "All Things Considered," "Marketplace" interviews and discussion on "Main Street." View Schedule >
Prairie Public's roots, rock and jazz featuring "Into the Music" with Mike Olson and "World Cafe," plus two hours of NPR's "Morning Edition" on weekdays and "Sounds Eclectic," "Mountain Stage," and "Acoustic Cafe" on the weekends. View Schedule >
Prairie Public's roots, rock and jazz featuring "Into the Music" with Mike Olson and "World Cafe." Also includes "Morning Edition" and "All Things Considered," "Marketplace," and interviews and discussion on "Main Street." View Schedule >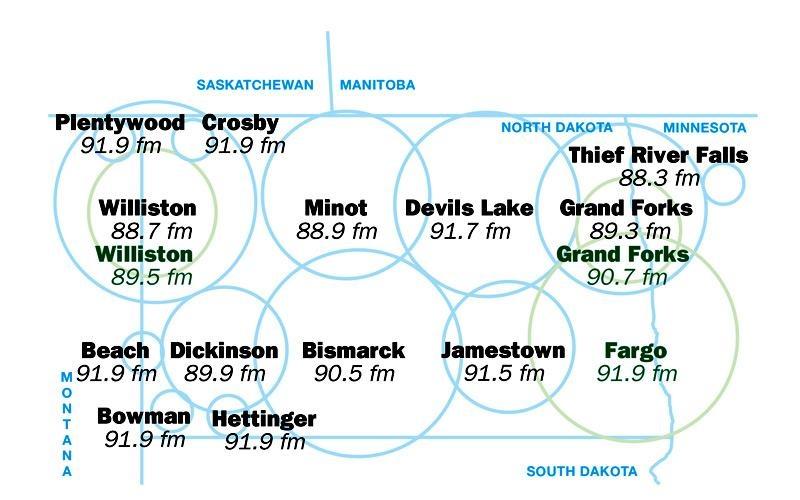 Prairie Public's classical music plus "Morning Edition" and "All Things Considered," "Marketplace" interviews and discussion on "Main Street."
Prairie Public's roots, rock and jazz featuring "Into the Music" with Mike Olson and "World Café," plus two hours of NPR's "Morning Edition" on weekdays and "Sounds Eclectic," "Mountain Stage," and "Acoustic Café" on the weekends.
Prairie Public's roots, rock and jazz featuring "Into the Music" with Mike Olson and "World Café." Also includes "Morning Edition" and "All Things Considered," "Marketplace," and interviews and discussion on "Main Street."
Boost a weak signal
A weak signal is the most common reception problem. It can be caused by distance, geographic features, or manmade features such as buildings. FM reception can vary a lot over short distances.
If your radio is easy to move around, that can be the first thing to try—move it toward the ceiling. If you have a radio with a telescoping swivel antenna, experiment with moving it around.
Try adding an external antenna. Some smaller radios don't allow this — look for a couple of screws or clips on the back. They're usually labeled "ant." Some radios with telescoping antennas are set up so that you can disconnect that one and attach a different one.
FM operates at the same range of frequencies as television, so television "rabbit ears" can help. Better than that can be the T-shaped flexible wire antennas known as folded dipoles. They work best if you tack them up to the wall, the higher the better. These are sold at many electronics and hardware stores. Our director of radio recommends the "FM Reflect-2 Dipole Antenna" from C. Crane for an inexpensive indoor attachment. It can be ordered at the C. Crane website.
Powered FM antennas work even better — they are available at electronics stores and on-line. Excellent antennas are available at a range of prices, from $50 to $400.
The best reception can be attained with an outdoor or attic mounted antenna. You can buy outdoor antennas made for FM, but TV antennas work very well — and there are a lot of old ones available, thanks to cable and satellite. A folded dipole (T-shaped) antenna should be broadside to the transmitter. An external TV-type antenna should be pointed at the transmitter.

Eliminate multipath distortion and adjacent channel interference
Multipath distortion happens when your radio is receiving the signal, but then also picks up an "echo" from a hill or a building. Since the echo is delayed, the two signals interfere with each other. Adjacent channel interference occurs when another station is on the next frequency. The solutions are the same as described above — moving the radio or attaching an antenna. Getting an HD (hybrid digital) receiver eliminates this problem also.
A note about HD Radios
All Prairie Public stations broadcast in HD and analog — an HD radio can pick up both. Our experience so far has been, though, that the digital part doesn't pick up at a distance as well as the analog, so if you are in an area of fringe reception, an HD radio may not matter at present. A good reason to try to get the digital part of the signal, though, is that with HD you can get two streams of Prairie Public programming.
Products that may help improve your reception
These links to commercial businesses are provided for your convenience, and Prairie Public receives no compensation from any purchases you may make.
C. Crane
Offers antennas and radios.
Insignia, Sparc, or Sangean
All offer HD (digital) radios, so you can get all Prairie Public streams.The digital version of our signal eliminates multipath problems (see more on that above).
Tivoli Audio or Bose Wave
Good reception, nicely built, more expensive. Not HD as of this post, only analog.