Learning Ecosystem - Educators - Tech Talk Tuesday
September Topic: "Technology Integration"
Since the COVID 19 pandemic teachers are using digital learning tools now more than ever to support students to be creative and collaborate with one another. We learned so much during the 20-21 school year about how digital tools should and should not be used, when to pick them up and when to put them down but most of all we learned that high quality technology integration is just as important now as it ever was. Join Montana PBS and Idaho Public Television for this series about how technology and digital tools can continue to successfully support student learning.
Week 3
Common Mistakes Teachers and Administrators Make When Using Technology
With the surge in technology use in schools during the COVID 19 pandemic, many teachers and administrators found themselves implementing technology with very little time devoted to planning or training. As the new school year unfolds schools have an opportunity to reflect on their current practices in technology integration in an effort to get the most out of digital learning tools. Learn from Technology Integration Specialists about some of the common mistakes teachers and administrators make when implementing technology in schools and how they can be overcome to improve student learning and engagement.
Join IdahoPTV and MontanaPBS for "Tech Talk Tuesday", a weekly virtual discussion about teaching and learning with technology. Hosted by Kari Wardle and Nikki Vradenburg, public media educators who are tech nerds and former classroom teachers!
Sessions are released weekly on Tuesday, beginning Sept. 7 and feature teachers from both states sharing strategies, tips and tricks, and real world solutions for integrating technology in the classroom. This is NOT another boring webinar! Tech Talk Tuesdays are all about teachers talking about teaching and learning with technology!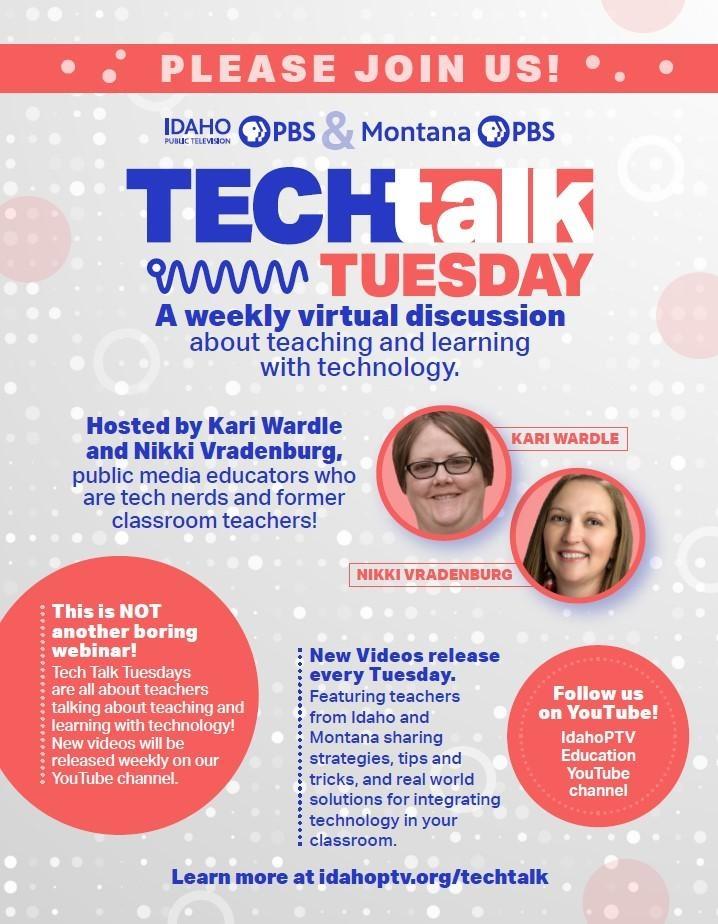 Previous Tech Talk Videos
IdahoPTV Education
2021 School Year: Is Technology still in your toolbox? Making the case for digital learning
IdahoPTV Education
Choosing the RIGHT digital tools: Let research be your guide
For more Tech Talk content or to view past session videos, click on the link above for our Education YouTube channel.