About Central Florida Roadtrip
Central Florida Roadtrip was born out of an idea to allow viewers to learn more about the cities and towns in which they live and visit. The first show premiered on October 8, 2017, in Sanford, Florida, originally called Mellonville.
AIRING NOW -- Central Florida Roadtrip is back on the road! We're taking a ride through history to discover some of the most interesting people and places in Central Florida. We're excited to share more fascinating, local stories you won't want to miss! Watch each episode below:
Read more about the new season here.
Did you miss our Central Florida Roadtrip: Hemingway in Florida special? Click here to watch the full episode.
So come on and join the ride, Central Florida Roadtrip airs Thursdays at 8 p.m. Click here to view past episodes.
About the Host: Dr. Phil Hoffman
Like so many folks who experience Orlando, I thought I had been to Orlando many times before I ever arrived at WUCF. From 1997-2016, we visited the area on family vacations a total of 14 times from our home in the frozen tundra of Northeast Ohio. And our experience was centered around attractions and theme parks. So it was a real eye-opener for me after moving to Orlando in 2016 -- as they say at the Orlando Economic Partnership, "I didn't know the half of it." Not even close to half.

My first clue early on was a visit to downtown Sanford for a WUCF event. I had no idea there were parts of Florida with cities that went back to the 19th century or even earlier. The more I visited places in my new job, the more I realized people really do need to know about the history here. I heard this from so many viewers -- natives who had families going back generations and people like me who were new to the area and wanting to learn more. The overwhelming message was we want more history.

And so Central Florida Roadtrip was born. To be honest, I spend most of my working hours studying budgets and reading contracts, so it was also a way for me to have some fun in the new city and pretend I was working.

Doing the show has made me really appreciate the Central Florida area. It's been a great chance for me to grow to appreciate the area like the natives do. To really start to understand the quirks, the beauty, and the fun that makes up Central Florida. And to meet great people from all over our area who love where they live and work every day to make life better here.

And also, let's face it, we need to work to present a story to the rest of the country that doesn't start with…."Florida man…."

-- Phil Hoffman, host of Central Florida Roadtrip
Central Florida Roadtrip: Season 7
About the Car: Mazda Miata
One of the most common questions we get about Central Florida Roadtrip is: "Is that really Phil's car?" The answer: yes.

"That's the car I drive every day to work -- a 2006 Mazda Miata manual 6-speed, with more than 100,000 miles on it. It's the place where I get to really enjoy Central Florida. Well, except during July through September, when I keep the top up and the A/C on!

I love spinning around Central Florida with the top down and the wind in what's left of my hair because it's a completely different experience than when you're sealed in your car…you notice sounds, sights, and smells you might not notice otherwise. And with the year-round great weather of Central Florida, I no longer store the car in the winter. I can actually drive it during January, something I never did in Ohio.

Plus, with only two seats and basically no trunk, it's an easy way to avoid having to help people move!" -- Phil Hoffman, host of Central Florida Roadtrip
About Our Storyteller: Buddy Pittman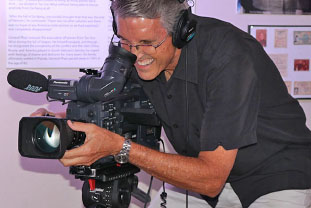 There is a secret to Central Florida Roadtrip that a lot of people don't know -- it's longtime Central Floridian Buddy Pittman. You may know Buddy from years on local stations like WESH. Or you may know him for his work with NASCAR.

As the producer for Central Florida Roadtrip, Buddy Pittman is the heart of the show. He knows so much about every city and town here in Central Florida, and his encyclopedic knowledge after a long career here in Orlando is absolutely the secret to why the show is loved by the viewers. Add to that the fact that he's a great storyteller who knows and understands the people and places in Central Florida like few others do.
Listen to Phil's Roadtrip Playlist
Behind the Scenes Photos
Dr. Phil Hoffman and Erika Dunlap interview Oviedo Mayor Dominic Persampiere at the Townhouse Restaurant in Oviedo.
Dr. Phil Hoffman and Erika Dunlap at The Townhouse Restaurant in Oviedo for Central Florida Roadtrip Live.
Brevard County, Dixie Crossroads
Brevard County, Harry T. & Harriette V. Moore Memorial Park
Brevard County, Harry T. & Harriette V. Moore Memorial Park
Lake County, Annie Oakley Statue
Lake County, Annie Oakley Statue
Lake County, Howey Mansion
Lake County, Howey Mansion
Lake County, Yalaha Bootlegging Co.
Orange County, Lake Eola Pagoda
Orange County, Lake Eola Pagoda
Polk County, Fantasy of Flight
Polk County, Florida Polytechnic University
Polk County, Florida Polytechnic University
Volusia County, Daytona International Speedway